3D LANDSCAPE DESIGNER OWNER AND OPERATER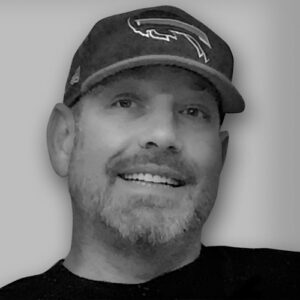 ALEX CARREY
OWNER/OPERATOR
LEAD DESIGNER
In Buffalo, New York, where I was born and raised, I spent many hours building with Legos to realize my dreams of creating homes and space stations. Being an architect was my dream career. I've always had a creative side, and I used to spend my Saturday mornings watching PBS home improvement shows like "This Old House" and others. After relocating to Arizona in the late 1990s, I made the decision to take a good, steady, traditional career handling collections in the banking industry. This work, which lasted for ten years, was awful.
I made the decision to launch a pool cleaning and repair service because at this moment I wanted to go out and do my own thing that would make me happy. I was successful, but it quickly got boring because it was so hot and didn't satisfy my drive to be creative. I started out by teaching myself graphic design from scratch, working on anything from logos to websites, and I still do it now.
My dear friend David Bell, the owner of A-E Landscape, posted a picture on Instagram of a property with 3D renders, and I quickly realized that this was my calling. I phoned him and told him I wanted to accomplish that and was prepared to go above and beyond to gain his favor. He gave me a chance and continues to be a terrific friend and mentor now! I've been working early mornings and late evenings for the past five or more years honing my skills, and I'll keep studying because things are constantly changing. Since then, I've collaborated with landscaping firms from Dallas to LA, and I'm only getting started.